Wednesday 7th December 2016
Thought the hunky-even-though-he's-a-drawing Ryan Gosling colouring book was cool? This might just top it.
Andrea Yip - a public health practitioner and sexual health advocate - has designed a period themed colouring book that is all kinds of #girlpower!
Filled with playful illustrations from granny pants and sanitary pads to period poos and saucy sex scenes, its purpose is to encourage people to talk about menstruation in a fun and easy environment.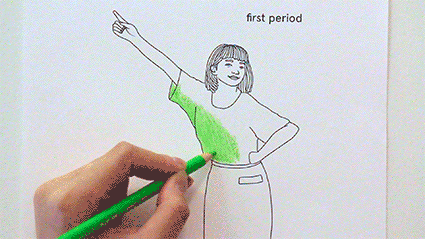 "I created the Period Coloring Book as a way to embrace, celebrate and reflect upon our shared experiences with menstruation. From leaks, cramps and pads to period sex and free bleeding, this book aims to help start more open and positive conversations about periods," artist Andrea said.
"After speaking with some friends, I realised that there wasn't a lot of conversation out there about people's lived experiences with periods, so I started to illustrate these moments. As I began to show illustrations to people, I found that they would spark intimate conversations about periods. I hope that the book can be a fun way to help people reflect upon and talk about their own experiences with menstruation."
Is this not the greatest way to relieve some stress, get your cute little craft on and celebrate your womb all at the same time?
The book isn't in shops just yet so don't get over excited and pop one on your list to Santa. Andrea is currently crowd funding via IndieGogo, hoping to raise enough funds to produce the book in bulk by March 2017.
Still, Pink Parcel HQ can't wait to stock up on all the colours of the pencil rainbow (any excuse for a trip to Paperchase) and get shading sanitary towels. We're totally behind anything that gets the period conversation flowing.
See, we told you it was up there with Ryan...
https://www.youtube.com/watch?v=Cni1KtfHVZM
If you haven't signed up to Pink Parcel yet, it's time to start enjoying your period! Subscribe here and you'll have everything you need (and want) sent directly to your door.